So why is it that the "floating floor" tile underlayment system that is the longest lasting, best choice hands down for larger span tile projects, ideal for in-floor heating systems, most adequate and versatile for older homes with not level or uneven floors and been time proven for over a hundred years hardly used anymore?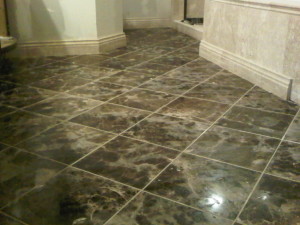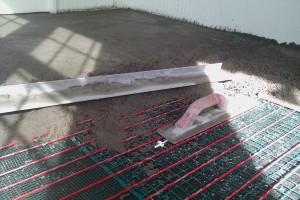 The answer is easy. You see it all the time in products and services everywhere. Labor saving techniques implemented  to cut costs and increase profits. Too many building and remodeling companies are finding the easiest and cheapest way to get the job done fast. Quality? who cares, as long as it looks good enough to get paid, the bottom line is all that matters. Well, I don't think that way and either do the guys I work with. That is why we work so well together. We still believe in the craftsmanship from the ground up, not just in the candy coating you see on top.
My home was built in 1912 and whenever I do remodeling work on my home I'm amazed at the extent of craftsmanship that went into building my home! Everything back then was built by hand and everything was built to last, including my tiled floors. I have replaced all of the tiled floors in my home, not because they needed repair, in fact they were all in perfect condition. They were built on metal lath and concrete back in 1912, the exact same flooring underlayment and technique I've been taking about. No, I have replaced the floors in my home  in order to update and redecorate the decor. So did I lay all the newly tiled floors in my own home on lath and crete? You bet! I wouldn't do it any other way.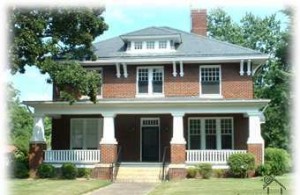 I'm currently working at a beautiful home on Lake Minnetonka updating their fireplace surround with new natural stone. One of the first things I noticed when I walked in to this lovely home on the lake was a stress fracture in their floor tile which covers the entire kitchen and entryway. The tile isn't old at all, in fact it looks like it was installed maybe 2 or 3 years prior. I would be willing to bet my life savings that it was laid on 1/2″ durock which seems to be the standard these days with most tile contractors. Too bad they didn't have a tile contractor that knew how to build a floating floor. That  kitchen/entryway floor would still be looking brand new!
I had submitted a bid a couple years ago on a large  flooring project which entailed a living room and kitchen. The homeowner had received a second bid from another well known contractor which was referred to her from a friend of hers who'd had them do some flooring in his house just the year before. The other contractor had submitted his bid specifying that they would use 1/4″ durock as an underlayment. When she asked me about this, I almost gasped! When I stated that if she went with this other contractor using 1/4″ durock as an underlayment, her floors will be cracking within the year. That's when her friend, who'd giving her the referral asked me, "Do you think that might be why the grout in my floor is coming out?"         Oh my gosh – YES!!   (true story)
I may be a business owner, but first and foremost, I'm a craftsman. Like those guys that built my home back in 1912, I pride myself on building an amazingly beautiful, quality product every time!  No cutting corners to increase my profits and my previous clients know this and appreciate this. One client I have whom I've done two bathrooms, rebuilt her chimney and several other smaller repair and remodel  projects told me that it was so nice to have me work on her home because she just knew that it would be done right and that is priceless.  That is why I work for myself, so that I can offer the very best quality craftsmanship in every thing I do. That is why I still and will always lay all of my floors on lath and crete, the way they used to, the way it should be done. The only way to guarantee that the investment in your home will last for years and years!