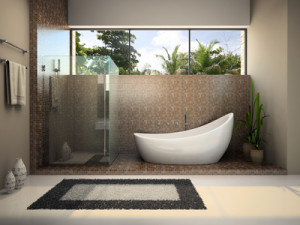 Bathroom remodeling in Minneapolis will continue to trend toward creating luxurious spaces in 2014.  Homeowners want to bring a spa feeling into their home and banish the utilitarian feel of the bathroom. The bathroom remodeling trends continue to move toward the feeling of openness and luxury, while also paying attention the growing demand for durable and environmentally friendly materials.
Achieving the spa environment means creating a wide open feel in your bathroom. You can do this with color, texture, the right fixtures, and large fog-resistant mirrors.
Technology will continue to find its way into bathrooms through radiant heat, heated towel racks, customized lighting, built in sound systems, and of course flat screen T.V.s.
Tile Installation in Minneapolis, Custom Tile Design
Even bathrooms who don't boast large square footage can get in on the high design. Small spaces are the perfect place for large impact elements.  Because you have less space these bathrooms can actually be easier to make into the custom space of your dream. Custom tile installation in Minneapolis can elevate the level of your bathroom remodel.
Glass tile mosaics continue to be on trend in 2014 creating great texture and interest in your room. The color choices in glass tile are nearly endless, giving you a huge number of color palettes and designs to choose from. Glass tile helps to create the wide open feel that we see in this upcoming year's bath design.
Today there are many tile options that appeal to environmentally conscious consumers. Recycled glass tile is widely available in a number of styles. There are also natural tiles options. Many producers of natural tiles have moved toward more environmentally conscious methods of preparing their product.  Ask an expert in tile installation in Minneapolis to learn more about these products.
A glass or natural tile is perfect for 2014's prominent color palette.
What Colors Will We See in 2014
Pantone , a world renowned authority on color, has released it's Spring 2014 color report. In home décor and bathroom spaces we see a return to warm and interesting neutrals.
Homeowners researching bathroom remodeling in Minneapolis may be concerned with choices that seem too "trendy". The benefit of this year's colors is their ability to appeal across both time and different styles.
Steel grays, natural wood tones, creams and even white will make a resurgence.  Bright bold colors will make way for more muted warm tones.
Shape and Feel
To compliment the warm neutrals the shape of edges will also see a remake in 2014. To help create the soft comfortable feeling those planning bathroom remodeling in Minneapolis will see soft edges make a big appearance.
Out are the strong angular lines in the bathroom, in are the soft fluid lines.
Are you planning on new tile installation in Minneapolis? What is on the top of your bathroom remodel wish list?
To schedule your FREE no-obligation estimate, call or email me today.
(612)805-6085
TJ@CreativeTileWorks.net